Cinnamon and honey are some of the best natural combinations for overall health.  In addition, both superfoods come with their own set of great health benefits.
Honey and Cinnamon are both rich in powerful antimicrobial, anti-inflammatory, and antioxidant properties. As a result, Ayurveda and ancient medicine consider this combination as a remedy for various health disorders.
Cinnamon (Cinnamomic Verum) is one of the most popular spices in the world with a very distinctive flavor. It is a healthy addition to both sweet and savory recipes.
Further, True Cinnamon from Sri Lanka is well known for a lot its health benefits,
Health Benefits of Cinnamon
Reduces the risk of heart disease
Treats skin infections
Helps Strengthen Joints
Improves mental health
Good for diabetes
Treats bladder infections
Helps with stomach disorders
Improves digestive health
Cures throat problems
Above all, researches show that Cinnamon has powerful antioxidants (polyphenols), Anti-Inflammatory, and Cinnamaldehyde properties that boost your immune.
On the other hand, honey is also considered highly medicinal. In texture, honey is sticky and thick. It is a sweet-tasting liquid obtained naturally from bees. Honey is fat-free, cholesterol-free, and sodium-free. It's also known as nature's sweet nectar.
Health Benefits of Honey
Prevents Heart Diseases
Treats Cough
Helps weight loss
Helps Lower Blood Pressure
Reduces Arthritis
Heals Burns and Wounds
Helps reduce gastritis and digestive issues
Soothes sore throat
Soften up skin
Honey also has anti-inflammatory and antibacterial properties that fight against bacterial and fungal infections.
Therefore, adding cinnamon to raw honey turns the mixture into a strong anti-inflammatory bronchitis and allergy treatment.
Furthermore, Honey and Cinnamon contain vitamin A, E, D, K, niacin, calcium, iron, potassium, fiber, protein, and much more.
Mixing Cinnamon and honey together strengthens your immune system. It also lowers the chance of catching cold and flu viruses, to a great extent.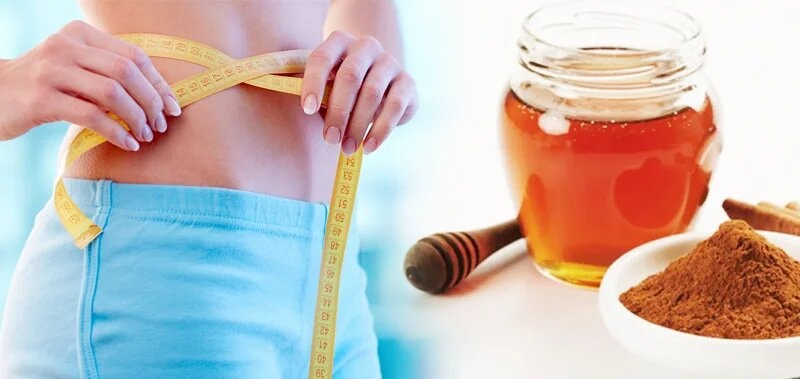 The best recipe for weight loss (Cinnamon and Honey)
Ingredients
Water
Raw honey
Cinnamon powder
Lemon Juice/Slice
Steps to making a desirable remedy for weight loss (Cinnamon and honey Tea)
Add a tablespoon of Cinnamon powder to the water
Boil for 20-30 minutes.
Filter the boiled water (to remove Cinnamon particles) to a cup
Let it cool down (as hot water destroys the live enzymes in the honey)
After that, add two tablespoons of honey into the cup.
Add a few drops of lemon juice to the drink and ENJOY!
NOTE: Try to drink in the morning before breakfast. Repeat for a few weeks and you will see great results.
We HIGHLY RECOMMEND this remedy as ONE OF THE BEST WEIGHT LOSS REMEDIES and an EXCELLENT IMMUNE BOOSTER!!
And also, you can add cinnamon and honey to your smoothies, butter, breakfast bowls, and baked goods.